I've come across two more useful video applications recently that could easily be used for online face to face or saved and shared videos, so I want to add these to my growing collection of video application reviews: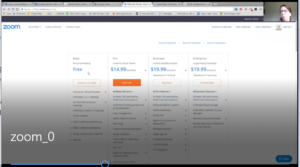 If you haven't been invited to a Zoom meeting yet, where have you been? No? But seriously Zoom is everywhere – maybe because it has won a slew of awards. Zoom started in 2011.
First off, there is a free version. Thank goodness, because the "education" pricing is aimed squarely at institutions rather than individual teachers. One of the main things missing from the free version, that would be lovely to have access to, is the ability to use breakout rooms – though this is possible on a 30-day free trial and maybe through a specific additional subscription.
It is very easy to use, even if you do have to download the app for your desktop (or other devices). I like that you can share the screen and that the video of the speaker/sharer thumbnails to the top right, which maintains the connection – one hopes – between the speaker and viewer. The app also includes an option to share a white screen and, again – untested, probably all users will be able to write on that.
You can record and the recording (mp4) is saved on your own drive – this maintains privacy if you are wanting to use video for assessment, you could email the video, share it via google drive or any other cloud sharing environment you are using. A really interesting feature is that an audio file (m4u) is separated out – which creates a much smaller file making email even easier to send. Not sure why this is useful, but it might be.
First things first, no recordings using this app. You could use some other app to record, but that's missing the point.
Cyclops are the new kids on the block, I think they only launched in 2017. This application is about enabling teams (how about online classes?) to feel as though they are in the same room. It streams your camera and audio peer to peer, which means that the video isn't stored (and it is encrypted). I love that it can be easily launched from inside Slack.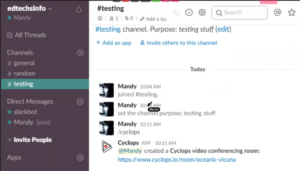 Another excellent feature is the ability to enhance a whiteboard so that scribbles become more legible. Anyone in the room can annotate the board collaboratively too. This would also work on any shared screen – though it is a little cumbersome so needs some practice to become fluent.
A potentially great feature is the transcription which can then be emailed to users. It isn't perfect, it works best if using headphones even though there is a choice to record the room; it makes lots of mistakes and to avoid those one has to speak unnaturally clearly. However, I think that this beta option can only improve but it potentially also makes the application stand out in a crowded field.
I had a little fun with it too – inviting myself to a meeting (I used an incognito window).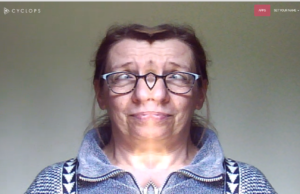 Update: before I even got a chance to close the edit page for this blog I got some news from Cyclops:

---
Also published on Medium.