I haven't been to a conference for at least a year, but when the opportunity arose to pick one as an award I recently won at The OU for teaching and learning, it wasn't hard to find the one I wanted to attend.
I've been reading the Digital Media & Learning hub since its roots – I think I originally followed a link from the MacArthur Foundation. On a more pragmatic level, the conference was near enough to Los Angeles that I would be able to stay with family and avoid hotel costs.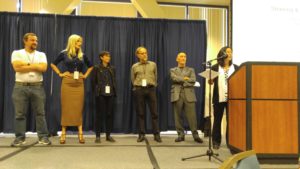 I had already decided to attend before I saw Constance Steinkuehler and Danah Boyd were speaking, my excitement grew exponentially at that point. Steinkuehler provided my introduction to ideas about gamification of learning – simplistically because around then I was attempting to link together my love of World of Warcraft with ways to create engaging literacy lessons in my classroom and I found that boys, in particular, were fascinated to know about which classes and faction I played! Although my love of WoW hasn't changed much, and I still play, I like to think that my approach to gamification has become a little more sophisticated. So although I was disappointed to see her withdraw from speaking it was almost enough for this fan to catch a glimpse in the corridors of UC Irvine.
Around the same era I took excerpts of Boyd's 2009 keynote for a professional development session with teachers. Aware that many held strong, albeit erroneous, beliefs about young people's experiences of the internet, and social media, in essence a sense that they had more knowledge and understanding of the environment than teachers themselves, I shamelessly used Boyd's words to to attempt to disperse these ideas. I like to think that using them, interspersed with a little discussion and reflection helped us to approach issues like cyberbullying and veracity from a more informed position. I am looking forward to watching Boyd's #2017DML keynote again, and writing about it in more depth later, because it was equally, if not more astute, in its analysis of today's information landscape.
Superficial reflections
The first day of my conference experience was a workshop; Preparing Teachers for the Connected Learning Ecology Through Playful Practice Spaces led by Torrey Trust and Dan Roy.  This looked at how teachers training and learning had so far failed to address connected learning — the overarching framework for the DML community and conference. Torrey created a ice-breaker which led to my own group disappearing down the technology rabbit hole, but enabled others to successfully explore each other's creativity under the guise of introducing themselves. My take away from this was twofold, obviously don't get obsessed with technology but also don't treat the camera like a friend, I hope I never have to look at that video again! I'll be practicing my video solemn but friendly face alongside my mobile duck face from now on.
The next task was to assess various learning activities against connected learning principles. Notably these case studies were not necessarily associated with connected learning but were specifically from the makerspace movement. We then went on to work on a rubric for assessing a poster. This was the activity which seemed the least connected to connected learning principles. Lunch was followed by a longer creative activity – a playful learning space for teachers. The groups producing a speed-dating lesson, a lesson-planning game (which was terrific), an introduction to Twitter card game and a web-based quest.
The next day began with Danah Boyd's keynote.
I found it stimulating, invigorating and challenging and it set an interesting tone for the rest of the two days. People kept returning to it and when they did, this is when the conversations were most compelling. It balanced elegantly with the plenary discussion between Henry James and Esra'a Al-Shafei, both of whom were significantly more optimistic. I had been lucky enough to eavesdrop on their Virtually Connecting conversation the previous day.
Throughout both I was continuously struck by Al'Shafei's sense of humor, she has the most wonderful and infectious laugh, and I intend to continue to "fuck fear" for as long as I am able, laughter is a magical weapon.
The other sessions I attended were:
"Fork your syllabus you slacker!" by Elizabeth Lawley which provided one of those, why didn't I think of that moments! She uses Github for all her teaching resources and Slack for class discussions. I loved that students could create pull requests to help correct the resources (for example). She teaches web development and here were students using the very environments they are likely to work with when working in the industry. 
It was great to catch up with what hypothes.is are up to. I first came across this application at the #OpenEd15 conference in Vancouver and got very excited by its possibilities. Sure enough, there are now more and more examples of its use and it is getting more robust by the day. If you haven't come across it, consider for a moment the power of being able to create layers of annotations on anything you can find on the web and use these inside (and out) of the classroom. They themselves recognize that they are only beginning to understand the scope of this application.
For fun, I went to a session about using textiles for STEAM. This requires quite costly resources like conductive thread, Arduino or Adafruit both supplying the necessary control boards etc. However, I came away determined to create some online courses for teachers (and maybe students) on how to do create some of these.  Later at the tech showcase, I met some young women who had creating Reconstruction Kits, which simplified debugging issues that can arise when trying to teach this i.e. is it the stitching or the code?
All in all, a very good conference, with the added benefit of being close to the sea.
Thanks #2017DML.